it's been a long time since our last post. That's because we have been working on various disparate pieces of writing and felt that this wee blog was a touch unnecessary - since we already have our myspace blog, our mailout with the band's immediate news, and other bits and bobs. But i couldn't resist writing, as there's nothing quite like a minute to sit down and clear your head, no?
A lot has been going on... it's not exactly the most original line to start with but no other beginning will do! From my perspective, i've had my tonsils out, been home in Brighton for the summer, returned to scotland just in time to catch the last week of the Edinburgh Festival, played unexpected festivals, made unexpected friends, traversed the country in britain's shittest van, and moved to Leith.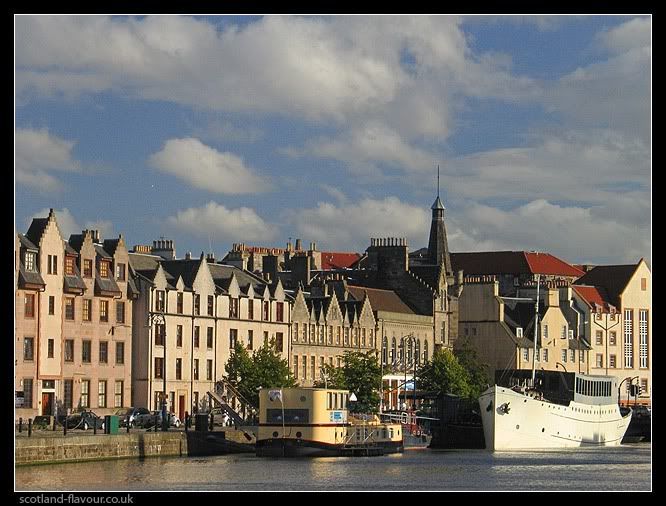 LEITH
Leith is an old port, a mile or so out of Edinburgh city centre, and so mired in maritime history that at times it feels like nothing's changed since 1782. Apart from the odd high-rise. I love it!
Come on Gang! continues to go from strength to strength. The story of the summer is really dominated by Reading and Leeds - and what a story!! Our van was the star of the show, and frankly it's a miracle we managed to make it back to Edinburgh, what with the off-kilter suspension, dodgy brakes, battered metalwork and the back door that partly fell off somewhere between Newton Pagnell services and Reading campsite. But help came in the form of Craig and Matt, mates of the band who did all the driving, fixing and general manpower... to wit, the last act to play Reading on Sunday night was the Arctic monkeys, and during their set Craig picked me up and carried me upside down over his shoulder, strolling about as though i weighed no more than a carrier bag. i will never forget how it felt to sing 'DANCING TO ELECTROPOP LIKE A ROBOT FROM 1984!' along with 20,000 other festivals goers, except i was travelling upside down, backwards and 6 feet in the air.
Other highlights of the trip involved stopping to camp outside the city of Reading. We'd journeyed from Leeds, full throttle down south (wheezing and puffing along at 60, that is), and saw a lane which appeared to offer parking. so down we went - but soon discovered that the alleged car park was nowhere to be seen, just a lane that got narrower and narrower... and then even narrower! Matt was driving, and it was with a cheery disposition that he eventually faced up the fact that we had to turn the van around. All credit to the bloke for remaining cheery - the van was very long, and the lane was very thin, and there was a period when the van sat across the lane, unable to go forward or back - wedged like a large foot in a small shoe. But he managed - don't ask me how, and no thanks to the hyperventilating team sat in the back of the van!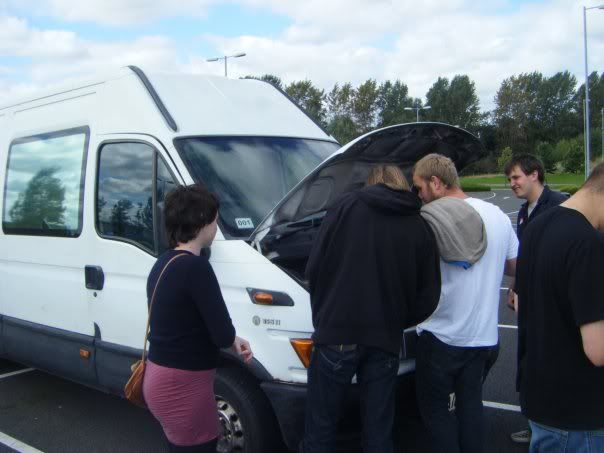 TROUBLE AT T'VAN
Not only that, but all the commotion had drawn attention, and when we got out of the van, we were joined by a silent, creepy unseen 'person' who loomed behind the trees, and wouldn't reply to our calls of HELLO. it didn't bother me at first - I had a torch, and I still felt invincible after our earlier performance onstage at Leeds. I set up my little tent... but when, right next to the tent, i heard more footsteps, i got a little freaked out, along with everyone else, (apart from Matt and Craig - they could've taken on Arnie and won) and we decided to hotfoot it out of there. The place was called Christmas Common - smacked a little of some sort of sordid horror story, right?
Don't worry though. We found the perfect spot to pitch up and went on to play a really special gig at Reading - one of the best ever. Watch it below...
COME ON GANG! PLAYING AT READING FESTIVAL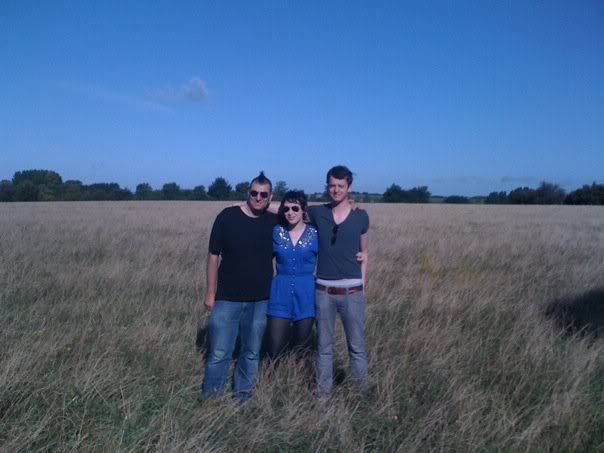 WE ESCAPE UNSCATHED FROM CHRISTMAS COMMON
Once the set was over, we could go and have some fun (up to that point, I'd steered clear even of a drop of beer, the better to do what I do without screwing up! Singing and drumming - you need to be on the ball.) But that afternoon we let our hair down, hence the upside down singlong, and I also saw Glasvegas, the Prodigy (from afar), and the Maccabees - whose stunning performance at Reading was surely one of the most momentous of their career, and I was glad to be a witness!
Yep, so we had Reading and Leeds under our belt - and this added to our summer festival roster of The Great Escape, Rockness, Hinterland, goNorth in Inverness, a quick stop in Dublin earlier in June, where we played an acoustic set for Balcony TV, below...
WE PLAY ACOUSTICALLY FOR BALCONY TV
and a London gig before Leeds, as well as other gigs in our home town. Busy days, but that wasn't all. we thought we were all done with festivals, and had to sadly say goodbye to the lovely festival season, but what's this? We then found out we'd won a competition to play the White Air festival in Brighton, taking place the very next day!!
And that really brings me up to the present day, cos our trip to Brighton only happened at the end of last week. Although we were only there for 24 hours, it was lovely to see my family, a couple of friends, and the cat (who just keeps getting fatter). We played on the promenade, right next to the beach, in a lovely warm hazy Indian summer day, and I looked across the cityscape and felt pretty chuffed to be onstage at such a location - just a few years ago I used to stand looking across the town hoping to gain a bit of recognition as a musician - and now, here we were! The next time we visit Brighton, I hope we can stay for longer, cos it's where I was born and bred and it's great to see the place. This time we could only fit in an hour on the pier looking at the lilting sea and then it was time to leave again!
There's things I've left out in this post - the tedium of having my tonsils out and the seemingly endless recovery; the day-to-day goings on of the band and our adventures, our new songs, which we've been debuting at gigs recently, and so on. Too much to fit into a blog posting without you the reader going cross-eyed! So i'll sign off for now, with the final note that on 11th October we'll be supporting the Noisettes at Glasgow ABC. They're a band i've loved, and i mean loved, for ages, so I literally can't wait for this.
over and out!